// by RA Pain Management
WHAT IS INFLAMMATION?
Inflammation is a process by which the body's white blood cells and substances they produce protect us from infection with foreign organisms, such as bacteria and viruses.
It is part of our body's immune system that contributes remedy.
Inflammation helps to fight bacteria and virus that we might have gotten in.
Our body has a normal response for inflammation and it has to respond immediately to detect and destroy the toxic material in damaged tissues before it can spread throughout the body," explained Lauren Whitt, Ph.D., UAB Employee Wellness director and adjunct professor of personal health.
Lauren Whitt added that, "The trouble with inflammation occurs when the defense system gets out-of-control and begins to destroy healthy tissue, causing more damage than the original issue."
However, inflammation can cause damage on our body.
For instance, when we become inflamed by cutting ourselves and the wounds become infected, it also leads to swollen joint that sometimes warn to the touch, joint pain and joint dysfunctions.
According to studies, anything with "itis" results in inflammation such as arthritis triggers an inflammatory response.
Our body system becomes infected and sometimes becomes abnormal.
WHAT IS AN ANTI-INFLAMMATORY FOOD?
Anti-inflammatory foods can transform your health.
Studies show that eating anti-inflammatory foods and practicing the anti-inflammatory diet is the ideal for good health.
Anti-inflammatory foods can reduce blood triglycerides and blood pressures, soothes and tender the stiff arthritic joints and reduce the symptoms of chronic diseases.
LIST OF ANTI-INFLAMMATORY FOODS
Vegetables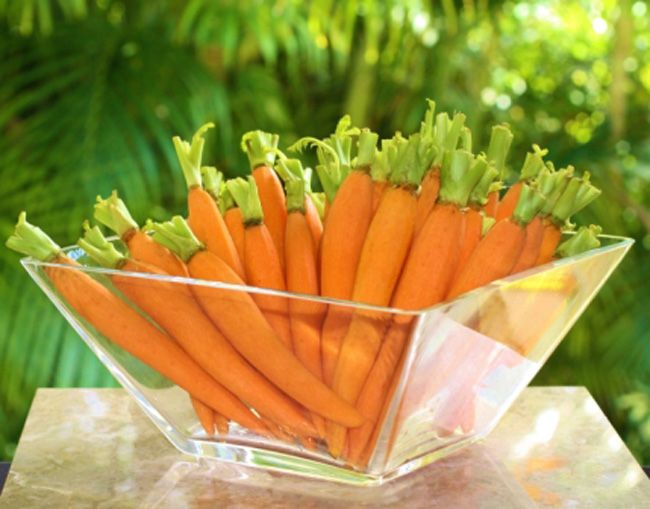 Eating fruits and vegetables is absolutely necessary if you want to optimize the results of an anti-inflammatory diet.
Fruits and vegetables are one of the very best anti-inflammatory foods on the planet.
If you check out our Clean Cuisine Anti-Inflammatory Diet Food Pyramid, you'll see the foundation of the pyramid—meaning the foods that should make up the biggest portion of your daily diet—are fruits and vegetables.
Vegetables contain carbohydrates, minerals and high concentration of vitamins such as Vitamin C, Vitamin E, Vitamin A and D.
It contains powerful antioxidants and multiple nutrients such phytochemicals, carotenoids and flavonoids that protect our body against cellular damage.
Vitamin E plays a key role in protecting the body from pro-inflammatory molecules called cytokines, while Vitamin A and D promotes cell growth and maintenance.
Vegetables acts a cleansing agent and detoxify the body's system since it contains a high water soluble vitamins that are found in Vitamin B and Vitamin C.
Vegetables can be eaten as raw or cooked and choose organic as possible.
Kale – Kale has often been considered by many people to be the healthiest food. This is a great source of Vitamin A, Vitamin C and Vitamin K.
Spinach – The consumption of spinach has been associated with prevention of cancer and asthma, lowers blood pressure, promoting healthy looking skin & hair and the management of diabetes
Swiss Chard – Swiss chard is a big part of Mediterranean cuisine. The stems of the leaf come in different colors including pink, yellow, white and green, making it a wonderful addition to the kitchen that is rich in nutrients, the main ones being vitamin K, Vitamin A, Vitamin C, Magnesium, copper and manganese. It also contains Kampferol, a substance that helps protect your heart, and syringic acid, which helps with blood sugar control.
Artichokes – Artichokes contain a vast number of nutrients that benefit your health. The most are quercetin, which helps fights off cancer, silymarin, which could assist in liver tissue regeneration and rutin, which promotes cardiovascular health.
Broccoli – Contains vitamin C and 14% of your RDA of folate. It assists with your digestive, eye & heart health, fights cancer, aging and prevents many chronic diseases.
Rapini – Similar to broccoli, it is full of beneficial nutrients including vitamins A and B6. Rapini has been linked with a reduced risk of colon cancer, the protection, and repair of DNA and the prevention of a stroke.
Asparagus – One of the major benefits of eating asparagus is its unique anti-inflammatory properties. The main substances that assist with this functionality are asparagine a, sarsasapogenin, protodioscin, and diosgenin, also known as saponins. It is also rich in anti-oxidants such as Vitamin C, beta-carotene, and vitamin E, all of which help to fight off free radicals that cause damage to cells in your body.
Collard Greens – One of the cruciferous vegetables and one of their main benefits that stand out is their ability to fight off cancer. One study showed that consuming collard greens was 13% more effective at lowering cholesterol than a prescription drug called Cholestyramine.
Celery – Celery helps to reduce inflammation, aids digestion, reduces bad cholesterol and is an awesome snack for people who are trying to lose weight. This may be used for smoothies, vegetable juices or to add some crunch in a rustic salad.
Leeks – Like many of the foods on this list, they are rich in Vitamin K, which is responsible for the clotting of blood and strengthening of bones.
Kohlrabi – Known as turnip cabbage or the German turnip, and is a member of the brassica family (other members include kale, broccoli, and cauliflower). The brassica family has been shown to be effective in fighting off many different types of cancers.
Purslane – Purslane has been shown to have neuroprotective (brain) and hepatoprotective (liver) effects. Additionally, according to studies, purslane has shown that it even has anti-tumor effects.
Mustard Greens – Mustard greens proves to help prevent cancer. They are rich in vitamin K, and also contain a large amount of Vitamin A, which is good for your eyes. Additionally, they contain lots of antioxidants; help to detoxify the liver and also lower cholesterol.
Scallions – Scallions are also known as spring onions and are used in many different dishes worldwide. Compared to regular onions, they contain more fiber, Vitamin C and potassium. The health benefits associated with scallions are their ability to reduce cholesterol, lower blood pressure and help protect from lung and oral cancers.
Watercress – Studies has shown that this compound helps to fight off cancer. Watercress is used to combat coughs, flu and bronchitis. It is also very versatile in terms of how it can be eaten.
Zucchini – Zucchini is a great source of potassium and B vitamins and is low in calories. Summer squash, in general, is rich in antioxidants, have anti-inflammatory and blood sugar benefits and support prostate health.
Okra – Studies shows that carried out on diabetic rats showed that okra helped lower blood sugar and fat levels, both of which are important for the management of the disease. Another study has also shown that okra helps your digestive health.
Lettuce – It is mainly made up of water but does contain significant amounts of potassium, Vitamin A and Omega-3 fatty acids. Lettuce is an antioxidant and phytonutrients that have health promoting and disease prevention properties.
Green Beans – Green beans are high in carotenoids, namely beta-carotene and lycopene. Both of these substances have antioxidant properties which mean they are great at fighting off disease. This also provides benefits to your cardiovascular health.
Dandelion Greens – This may be a pesky weed, but dandelion helps to fight leukemia cells and promote liver health. This also provides natural relief from liver disorders, diabetes, urinary disorders, acne, jaundice, cancer, and anemia.
Fennel – According to studies, there is some evidence that fennel may help with the treatment of glaucoma, a condition that causes a gradual loss of sight. One study also showed that fennel oil had remarkable effects on the treatment of colic in babies. Additionally, it may have some benefits when it comes to lowering blood pressure.
Endive – Endive is a leafy vegetable belonging to the chicory genus, which places it alongside foods such as radicchio, sugarloaf, and the Belgian endive. It looks a bit like Romaine lettuce but tastes somewhat different. Endive is a good source of kaempferol, which provides protection from blood vessel damage and protects from cancer.
Cabbage – Cabbage is a very low-calorie & nutritious vegetable and can be eaten & cooked in many different ways. It is a member of the cruciferous family of vegetables and has many nutritional benefits, mostly due to its high levels of vitamin C &K. Cabbage has been associated with a number of health benefits as well, from helping reduce inflammation to protection against colon cancer.
Brussels Sprout – Brussels sprouts are a rich source of dietary fiber, with one cup containing 3.3 g. Fiber helps keep you feeling full, is great for your digestive system and also helps lower levels of cholesterol.
Arugula – Arugula is rich in calcium, magnesium and vitamin A.It also contains a compound called erucin, and a study showed that it is effective at fighting against tumors.
Bok Choy – It is an excellent source of calcium, iron and alpha-linoleic acid. Bok Choy is a member of the Brassica family and is great at fighting off cancer.
Green Bell Peppers – This is an excellent source of Vitamin A, Vitamin C and Vitamin B6. They are a very good source of Folate, Molybdenum, Vitamin E, dietary fiber, Vitamin B2, Pantothenic Acid, Niacin and Potassium.
Beet Greens -Beet greens contains large amounts of vitamin K, copper and iron. It is also a great source of many other vitamins and minerals. Additionally, they contain lots of fiber, beta-carotene and lutein.
Reishi – Reishi mushrooms contain anti-tumor, anti-inflammatory, anti-aging and immuno-modulatory properties. Reishi-derived substances are also antibacterial and anti-viral, exerting direct inhibitory actions against human herpes viruses, influenza virus, and vesicular stomatitis.
Caterpillar Fungus –This is used for treatment treat for a broad range of conditions, including night sweating, sexual dysfunction, high blood sugar, respiratory disease, kidney dysfunction, irregular heartbeat and other heart disease. Could be useful against a cancerous tumor, chemical-induced kidney damages, diabetes, inflammation, radiation-induced bone marrow and intestinal injuries, high blood cholesterol, and oxidative damage.
Bamboo Fungus – Early studies found that it may help to reduce low-density lipoprotein (bad cholesterol) and excessive acid in the body fluids while increasing high-density lipoprotein (good cholesterol) and overall immunity. Research also found that bamboo fungus shares some of the therapeutic properties as other medicinal mushrooms, including anti-cancer, anti-inflammation, anti-hyperglycemic and antimicrobial.
Maitake – The mushroom comes mainly from the extract's ability to modulate the immune system and inhibit tumor cell growth. Several improved maitake extracts were later developed. One of them, maitake, has reportedly received positive results in the treatment of a few cases of leukemia, liver and lung cancer.
Almond Mushrooms – Almond mushroom has the attention of scientists and consumers due to its potential anti-cancer, immuno-regulating, anti-viral, anti-inflammatory and anti-diabetic effects. Based on a 2005 survey, it was reportedly the most popular and alternative medicine used by cancer patients in Japan.
Lion's Mane – This anti-inflammatory mushroom may also improve lipid metabolism, cut blood lipid levels, reduce cell mutation and protect nerve tissue according to some preliminary reports.
Shiitake – Contains strong compounds with the natural ability to discourage inflammation, such as Ergothioneine, which inhibits oxidative stress. They also contain a number of unique nutrients that many do not get enough of in their diet. One is copper, which is one of the few metallic elements accompanied by amino and fatty acids that are essential to human health. Since your body can't synthesize copper, your diet must supply it regularly. Copper deficiency can be a factor in the development of coronary heart disease.
Fruits
Berries have anti-inflammatory properties that contain anthocyanins – the powerful chemicals found in their rich colors.
Berries such as blueberries and raspberries help to protect against intestinal inflammation and ulcerative colitis – a long-term condition that results in inflammation and ulcers in colon and rectum.
Fruits are also rich in flavonoids and carotenoids with both anti-oxidants and anti-inflammatory activity.
Because of antioxidants, it will help protect you from free radical damage, which has been shown to help prevent diseases like cancer and heart disease.
Apple – Studies shows that eating apples helps to prevent certain types of cancers. Apple is antioxidant abundant that helps to reduce bad cholesterol oxidation. Apples are rich in a soluble fiber called pectin. Preliminary studies suggest that pectin may help to reduce levels of toxic heavy metals in the body.
Apricot – The high beta-carotene content of apricots makes them an important heart health food; the beta-carotene helps protect cholesterol from oxidation, which may in turn help to prevent heart disease. Apricots contain Vitamin B2, Potassium, and Magnesium. They also contain copper and iron which are important for maintaining healthy blood and helping to prevent iron deficiency.
Avocado – Rich in flavor and consistency, avocados are great to consume if you're craving something fatty and thick. Avocado is high in potassium; they help to keep blood pressure low. They also contain monounsaturated fats which help to lower blood pressure. Good source of vitamin K, which has been indicated to promote bone health in the elderly. Avocados are a nice source of protein, especially for anyone on a diet.
Blackberries – An excellent source of vitamin C, blackberries have substantial amounts of fiber, iron, calcium, potassium and manganese. Diets rich in potassium may help to maintain a healthy blood pressure. Berries are the highest source of antioxidants from fruits.
Blueberries – Blueberries is loaded with antioxidants that contain pectin, Vitamin C, potassium, and significant amounts of tannins which can kill bacteria. Manganese, which contributes to healthy bones as well as in converting macronutrients to energy, is amply found in blueberries. Rich in flavonoids, consuming these little berries is associated with a decreased risk of type-2 diabetes.
Cantaloupe – Sweet, creates a high juice yield and contains low calories. They have commendable levels of beta-carotene, folic acid, potassium, Vitamin C, and fiber. Cantaloupes have a great amount of the Vitamin B complex, unlike most other fruits and vegetables
Cherries – Cherries possess an anti-cancer compound, that contains iron and ellagic acid, and are high in vitamins A and C. They also contain biotin and potassium. Antibacterial, antioxidant, anti-cancer, and anti-inflammatory.
Kiwi – Excellent source of vitamin C. Vitamin C helps heal cuts and wounds and keep teeth and gums healthy. Kiwi is high in Vitamin C and anti-inflammatory.
Lemon – Rich in vitamin C and anti-inflammatory. Lemons and limes have limonene which may help to prevent breast cancer growth. Also, contains natural anti-nausea and overall digestive aid properties.
Lime – Same with lemon, this is also rich in vitamin C, vitamin B6, folic acid, potassium, flavonoids and many other phytonutrients.
Orange – An excellent source of vitamin C. Vitamin C helps heal cuts and wounds and keep teeth and gums healthy.
Papaya – Antioxidant and anticancer. Papaya promotes healthy digestion and can reduce constipation with their potent enzymes. Rich in Vitamins A, C, and potassium
Pears – Great source of fiber. Contains Vitamin C, boron, and potassium.
Pineapples – Great for improving digestion. A good source of potassium and has Vitamin C and iron. Contains anti-inflammatory compounds such as bromelain.
Tomatoes – Tomatoes are an excellent source of vitamin C, as well as antioxidants that may prevent cancer, such as lycopene. Lycopene promotes overall mental and physical health. Good source of potassium and are antioxidant and anti-cancer.
Raspberries – High in antioxidants and a super immune booster. Contains potassium, niacin, iron and vitamin C.
Strawberries – Excellent source of vitamin C, which helps heal cuts and wounds and keep teeth and gums healthy.
Whole and Cracked Grains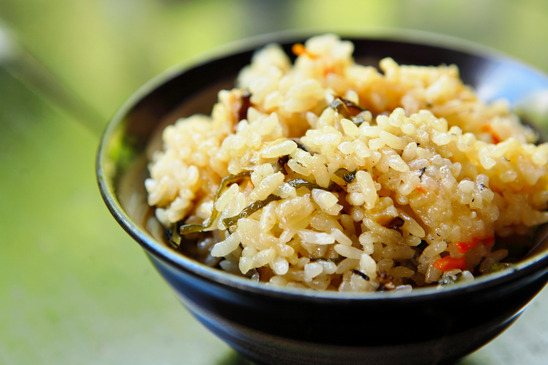 Whole and cracked grains are full of protein, fiber, vitamins, minerals and low-glycemic carbohydrates.
These natural supplements are an important part of Dr. Weil's anti-Inflammatory food pyramid.
Amaranth– Amaranth may not be considered as grain, because of its nutrient composition makes it similar to cereal grains. Amaranth is high in protein, has a nutty flavor, and you can pop it like popcorn or turn it into porridge by boiling this in water.
Barley – Barley is an anti-inflammatory grain that is an ideal addition to soups, stews and risotto dishes, barley is loaded with 6 grams of fiber per cup.
Brown Rice – Brown rice is nutrient-rich. Because it has not had its bran and germ stripped away during processing, you may use it as a replacement in any recipe that calls for white rice, but you'll need to use more water and adjust cooking times.
Buckwheat– Buckwheat is another pseudo-cereal like amaranth, buckwheat is technically a fruit. However, you can use this high-protein ingredient in vegetable recipes, noodles, crepes, pancakes and muffins.
Bulgur – This anti-inflammable nutty-tasting grain comes from whole-wheat that's been partly cracked. Use it in recipes, just as you would rice or couscous or even in vegetable recipes
Millet-GF – Millet is an anti-inflammatory type of grass that's similar to corn. It can be used as an alternative to rice or added to bread and muffin recipes.
Quinoa– This versatile, high-protein seed is an ideal grain substitute. Research is finding quinoa might suppress the release of immune substances called cytokines, which could be helpful for both preventing and treating inflammation.
Sorghum– This cereal grain is rich in protein. Use sorghum flour instead of white flour in breads, cookies and other recipes. Sorghum is a powerhouse in terms of nutrients and can provide those wise individuals who add it to their diet.
Rye – This is used to make rye bread, whole rye has been shown in research to suppress hunger, which might make it a useful weight-loss tool.
Whole Oats/Steel-Cut – These oats are high in protein and are naturally gluten free (although most commercially available oats are contaminated with wheat). Have them for breakfast or use them in recipes.
Whole Wheat – This may know as the "complete package" of health benefits. Adding whole wheat in your recipes or diet will increase your nutrient intake and potentially lower inflammation.
Pasta
Pasta such as rice noodles and organic pasta are rich in carbohydrates and contain a lower glycemic index.
The glycemic index is the ability of carbohydrates to increase blood glucose levels when absorbed in the body.
You'll get more fiber and nutrients and fewer calories and refined carbohydrates in pasta.
Organic Pasta
Rice Noodles
Bean Thread Noodles
Buckwheat Noodles
Beans and Legumes
Based on a 2012 study in the Archives of Internal Medicine, beans peas and legumes are highly recommended for arthritis diet.
These are composed of disease-fighting antioxidants that contain anti-inflammatory properties and even found to cure diabetes.
Beans are also rich in folic acid, magnesium, potassium and soluble fiber. 1-2 servings per day of beans are recommended.
Chickpeas
Black-Eyed Peas
Anasazi
Adzuki
Navy Beans – Navy beans have the most cholesterol-clobbering fiber of any bean at 10.5 grams per 100-gram serving, plus tons of potassium. In fact, a study published in the Journal of Nutrition found that a high-potassium diet helped people lower their blood pressure.
Garbanzo Bean – Garbanzos can be eaten whole and added to salads and soups. Mash them and you have the main ingredient in hummus. Hummus comes in a variety of great flavors and can be eaten spread on crackers or used on sandwiches as a healthy swap for mayo.
Lentils – According to International Journal of Cancer, Women who eat lentils frequently have a lower risk of developing breast cancer. Other studies show that lentils may protect against prostate and colorectal cancers as well.
Red Kidney Beans – Contains more antioxidants and omega-3 polyunsaturated fatty acids. Importantly, omega-3s have been linked to better cognitive outcomes in older adults. Plus, kidney beans are highest in thiamine, a nutrient that may be protective against Alzheimer's disease.
Black Beans – Black beans is great in everything from burritos to soup, black beans are full of anthocyanins, compounds that have been shown to improve brain function.
Soy Beans – Also known as the muscle builder. Soybeans are one of the only common plant foods that contain complete protein—meaning all nine essential amino acids. This makes them terrific muscle-building meat substitutes for vegetarians and meat-eaters alike. From edamame to tofu, there are tons of easy ways to enjoy soy.
Proteins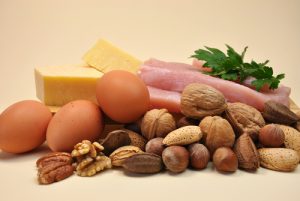 Eggs, lean meats, poultry, fish and many nuts contain Omega 3 fatty acids and provide an excellent source of protein.
While cheeses and yogurts are a rich source of dietary needs, proteins play an important role in your everyday life.
Fish are a good source of Vitamins A and D as well as being rich in Omega 3 fatty acids.
Amongst other benefits, studies suggest that the Omega 3 fatty acids in oily fish may help sufferers of depression, reduce the likelihood of heart disease and improve inflammatory conditions such as arthritis.
Research conducted by Arthritis Foundation, eating a 3- to 6-ounce serving of these fish two to four times a week is recommended for lowering inflammation and protecting the heart.
Many nuts and seeds are a good source of polyunsaturated and monounsaturated fats, which lower cholesterol and reduce the heart disease risks that are high in people with certain types of arthritis.
They also are a good source of protein and antioxidant vitamins and minerals.
In addition, says Marisa Moore, an Atlanta-based registered dietitian-nutritionist, some nuts and seeds are high in alpha linoleic acid (ALA), a type of anti-inflammatory omega-3 fatty acid. Some nuts are rich in magnesium, l-Arginine and Vitamin E, which may play a role in keeping inflammation under control.
Studies have shown that people who eat a diet high in these nutrients tend to have lower levels of some inflammation-causing molecules that circulate in the bloodstream and higher levels of the anti-inflammatory protein adiponectin compared with those who consumed less.
Pecans
Brazil Nuts
Extra Virgin Olive Oil
Tuna
Trout
High-Quality Natural Cheese
Omega-3 Enriched Eggs
Skinless Poultry
Low-Fat Dairy
Yogurt and Cheese – Yogurt and cheese contain probiotics – A microorganism that provides health benefits when consumed. The purpose of probiotics found in cheese and yogurt ingested microorganisms associated with benefits for humans and animals. Dairy products contain calcium and also provide protein, phosphorus, Vitamin A, and Vitamin D
Organic Grass-Fed Meats – Organic and grass-fed farm animals such as organic poultry, pork, beef, lamb are healthier, and their meat provides nutritional value. Meats are high levels of anti-inflammatory omega-3 fatty acids and contain beta-carotene, iron, zinc and magnesium.
Bone Broth – Bone broth contains collagen and other nutrients. Cartilage and tendons contain glucosamine – which you may have seen sold as a supplement for arthritis and joint pain. The broth is also full of anti-inflammatory amino acids, the glycine, and proline.
Eggs – Many doctors called this a "perfect food," given their high content of protein, Vitamins A and B, and biotin. Eggs help inflammation because eggs contain the potent carotenoids zeaxanthin and lutein (both good for vision), as well as choline (good for brain and heart function). According to nutrition experts, organic eggs contain higher levels of omega-3 fatty acids.
Mackerel – Mackerel are incredibly rich in nutrients and provides vitamins B12 and selenium. It has Omega 3 that improves inflammatory.
Salmon – Based on studies, salmon has a lower risk of diseases like heart disease, dementia, and depression. It contains high quality of protein and variety of nutrients including potassium, magnesium, selenium and Vitamin B. Salmon is considered as one of the most nutritious foods on the planet.
Cod Liver Oil – Cod liver is extracted from the liver of cod fish. It contains Vitamin A, omega 3 fatty acids, Vitamin D. One tablespoon of cod liver oil provides your need for important nutrients.
Herring – Contains selenium, Vitamin D and Omega 3 fatty acids. This is commonly eaten for breakfast served with eggs called kippers. This can be cold-smoked, precooked or canned snack.
Oysters – Shellfish are among the most nutritious foods you can eat. Contain more zinc than any other food on the planet. A 100-gram portion of raw oysters (6–7 oysters) contains 600% of the RDI for Zinc, 200% for Copper and 300% for Vitamin B12.
Sardines – These small, oily fish are commonly eaten out of a tin or jar as a starter, snack or delicacy. Are highly nutritious, especially when eaten whole. They contain almost every single nutrient that the human body needs. Contains Vitamin B12, Vitamin D and Selenium
Anchovies – Anchovies are a great source of niacin and selenium. While boned anchovies are also rich in calcium. These are usually eaten in small portions such as rolled capers, pizza, and salad toppings.
Walnut – With their high content, walnuts head the nut pack in omega-3 content, eating walnuts regularly can lower cholesterol, relax blood vessels to lessen stress on the heart, and reduce blood pressure.
Peanuts – Peanuts are also a good source of monounsaturated and polyunsaturated fats, and research shows adding them to your diet can help lower "bad" cholesterol and reduce heart disease risk. Peanuts deliver about 12% of your daily magnesium requirement and may help keep blood sugar under control.
Almonds – Almonds contain more fiber than most nuts, they're a good choice for weight management, says Moore. "You'll be more satisfied for longer, and you also get some cholesterol-reducing benefits from the healthy fats. They are also a good source of antioxidant vitamin E," she says. Research suggests the monounsaturated fats from an almond-rich diet lower some markers of inflammation, including CRP.
Pistachios – Snack on pistachios to help with weight loss. "Dealing with the shell slows down consumption, which is good for people with arthritis trying to lose a few pounds to take pressure off joints," says Moore. Pistachios can also help lower cholesterol and are high in potassium and antioxidants, including vitamins A and E and lutein – a compound also found in dark, leafy vegetables.
Flaxseed – Flaxseed is one of the richest plant-based sources of the anti-inflammatory omega-3 fatty acid. Studies show it may help lower cholesterol and reduce the complications of diabetes and heart disease risk. Crushing or milling the flaxseed make it easier for your body to digest and use the ALA, so choose these varieties over whole seeds.
Chia Seeds – Chia seeds are also an excellent source of anti-inflammatory but their biggest benefit is probably their high fiber content (about 10 grams per serving), says Moore. "The fiber fills people up, which can help control weight," she says.
Herbs and Spices
Based an article from Arthritis Foundation, according to Kim Larson, a board certified spots dietician and a spokesperson for the Academy of Nutrition and Dietetics, "The more anti-inflammatory foods and spices you eat, the more you are tamping down chronic inflammation. I think people are often surprised at what a great anti-inflammatory source spices can be."
Turmeric – Turmeric is known as medicine used by Chinese and in Indian cultures for centuries. This is a known remedy that helps arthritis, liver disease and supports immune disorder repairs. Scientific studies states that turmeric has "antioxidant, anti-inflammatory, antiviral, antibacterial, antifungal, and anticancer activities and thus has a potential against various malignant diseases, diabetes, allergies, arthritis, Alzheimer's disease, and other chronic illnesses
Cayenne Pepper – Cayenne contains a range of flavonoids and carotenoids – antioxidants that protects against the cellular damage that leads to inflammation and disease. It also relieves digestive and circulatory problems.
Ginger – Ginger is another spice that has been used as an alternative medicine for centuries for inflammation and pain, to soothe sore muscles and throats, and soothes aches and fatigue.
Cinnamon – Cinnamon helps to lower blood sugar in diabetics by activating insulin receptors. Among the spices and herbs, cinnamon has antioxidant and anti-inflammatory properties that can lessen the likelihood of cellular damage and chronic disease. Another health benefit of cinnamon blocks growth factors associated with abnormal cell growth that protects against cancer.
Cloves – Cloves contain eugenol that protects against the inflammation that underlies heart disease, cancer, and the other chronic diseases. Cloves are extremely rich in antioxidants, including the flavonoids kaempferol and rhamnetin.
Sage – Sage contains carnosic acid and carnosol that are chief anti-inflammatory molecules that give sage its health benefits and contribute to its flavor/aroma. Sage is effective against inflammation-based neurological conditions like Alzheimer's disease.
Rosemary – Rosemary contains the activity of superoxide dismutase, an enzyme that removes superoxide, the potent free radical that is associated with chronic inflammation. Rosemary has an apigenin, a compound that can inhibit the growth of pancreatic cancer cells, and diosmin, which prevents hemorrhoids.
Thyme – Packed with essential vitamins and minerals, Thyme also has docosahexaenoic acid, an omega-3 fatty acid which helps people wtih rheumatoid arthritis.
Garlic – An anti-inflammation agent used to reduce flair ups or potentially prevent them from happening.
Curry Powder – Helps to reduce joint pain and swelling.
Chili Peppers – Counter-irritant for arthritic disorders and also has the potential to relieve pain.
Basil – Eases swelling and pain caused by rheumatoid arthritis.
Healthy Sweets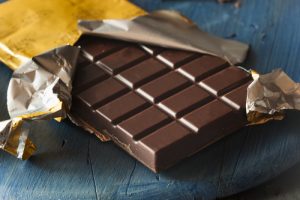 According to studies, unrefined sweeteners or "unprocessed" or "raw" sweeteners, contains anti-inflammatory antioxidants that contain Vitamin C and E that cleans potentially the damaging oxidizing agents in a living organism.
It also protects your body from the inflammatory results of unbalanced sugar levels.
Raw honey, stevia, yacon syrup, pure maple syrup and dark chocolates contain the highest amount of antioxidants.
Stevia – Stevia contains chlorophylls and xanthophyll that exhibits anti-cancer properties and anti-inflammation. These two components found in Stevia protect the body from cell growth of tumors.
Raw Honey – Raw honey has Vitamins B2 and B6, iron, manganese, amino acids and enzymes. It has been used for thousands of years and has been proven revealed how it soothes inflammation due to anti-inflammatory antioxidants.
Pure Maple Syrup – Maple syrup contains potassium, phosphorus, iron, magnesium, vitamin B1, phenol antioxidants and calcium. Maple Syrup contains manganese, which helps to boost levels of the antioxidant enzyme called superoxide dismutase or manganese SOD.
Dark Chocolate – Research informs us that eating chocolate, especially dark chocolate, is good for you (in moderation, of course). One reason is that cocoa, the main ingredient in chocolate, is packed with antioxidants called polyphenols. The higher the percentage of cocoa in a bar, the higher the concentration of polyphenols. These recipes, made with cocoa powder, will let you reap the health benefits of dark chocolate without its extra fat and sugar.
Yacon Syrup – Yacon syrup contains a high-quality amount of iron, calcium, potassium, phosphorus, chromium and vitamins B that supports glucose metabolism, making yacon a sweetener for people with metabolic conditions and chronic inflammation.
Beverages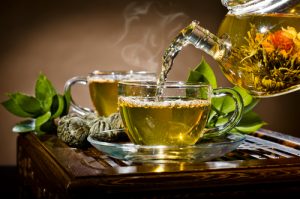 Red wine has an anti-oxidant activity.
Limit intake to no more 1-2 servings per day.
Tea is rich in catechins – antioxidant compounds that reduce inflammation.
Purchase high-quality tea and learn how to correctly brew it for maximum taste and health benefits.
While water is vital for the overall functioning of the body with a recommendation of drinking 8 glasses or more a day.
Coconut Water – Many studies have shown that the antiviral, antibacterial, anti- inflammatory and antioxidant activity of coconut water may help with a number of minor to severe health conditions. This nutrient rich drink has been used to regulate blood pressure, blood sugar, and cholesterol levels, and it has been found to boost energy levels and increase metabolism in the human body. Coconut water has also been found to be effective in treating the stomach flu, dysentery, indigestion, constipation, intestinal worms, cholera, urinary abnormalities, urethral stone, malfunctioning kidneys, dry and itchy skin, age spots, and wrinkles.
Green Tea – This type of anti-inflammatory tea is anti-carcinogenic, helps to reduce cholesterol, anti-diabetic, immune boosting and use for stamina and endurance booster. Green tea contains amino acids such as Thiamine, Butyric Acid & Lignin; Xanthine Alkaloids such as Adenine, Dimethylxanthine, Theobromine, Theophylline and Xanthine; Pectin (also found in fruits); saccharides (sugar), Chlorophyll and Triterpene Saponins. Some Vitamins, like Vitamin A, Vitamin B1, Vitamin B2, Vitamin B3, Vitamin C and Vitamin E
White Tea – According to study, white tea contains tannins, fluoride and flavonoids such as catechins and polyphenols. These are responsible for the various health benefits that white tea provides. This tea may increase antioxidant effects of organs as well as plasma. It has antioxidant properties that help in cell neuroprotection.
Oolong Tea – Oolong tea contains polyphenol compound that is very effective in controlling the metabolism of fats in the body. It also helps to prevent diabetes, cancer and osteoporosis and also improves mental health.
Purified Water – Drinking water helps maximize performance, prevents us from dehydration, constipation, and headache and prevents the increase of kidney stones.
Red Wine – Red wine contains a compound called resveratrol, which has been found to have both anti-inflammatory and anti-cancer properties.
Supplements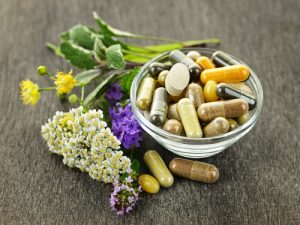 Getting an additional support through supplements may be useful.
Supplements help fill any gaps in your diet when you are unable to get your daily requirement of micronutrients states Dr. Andrew Weil, an author and founder of
Weils's Lifestyle
.
Vitamin E – Reduces pain on a more consistent basis than regular medications.
Vitamin C – Helps protect your body against inflammation flare ups.
Mixed Carotenoids – Assists with curbing inflammation in your body.
Selenium – Potentially decreases damage done to joint linings, which will reduce swelling and pain.
Co-Enzyme Q10 – Minimizes inflamation and oxidative stress.
2,000 IU of Vitamin D3 – Proper levels of vitamin D inhibit inflammation in arthritis patients.
Alpha Lipoid Acid – Supplies energy and helps protect cells from damage and restore levels of antioxidants like vitamins C and E. It reduces inflammation that linked to cancer, heart disease and other body disorders.
Curcumin – Curcumin helps by reducing inflammation and improving symptoms of osteoarthritis and rheumatoid arthritis.
Fish Oil – Contains omega-3 fatty acids, which are vital to good health. It decreases the inflammation associated with diabetes, heart disease, cancer and many other conditions. It may also decrease the inflammation and muscle damage that occur after exercise.
Spirulina – A strong antioxidant supplement, which helps to reduce inflammation that leads to anemia and strengthen the immune system. Spirulina contains high protein and iron that suitable during pregnancy, after surgery and it boosts our immune system.
Resveratrol – According to experts, resveratrol supplements may reduce inflammation in individuals with heart disease, insulin resistance, gastritis, ulcerative colitis and other conditions. In another study, resveratrol supplements lowered inflammatory markers, triglycerides and blood sugar in people with obesity.
Oils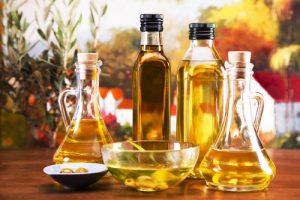 Healthy fats are those rich in either monounsaturated or Omega-3 fats.
Studies shows that extra-virgin olive oil is rich in polyphenols with antioxidant activity and canola oil contains a small fraction of omega-3 fatty acids.
Contains a natural compound called oleocanthal helped to prevent arthritis-related inflammation. These compounds block the same inflammatory pathways as ibuprofen and aspirin, medications commonly used to fight arthritis pain.
The amount of Two to three tablespoons per day for cooking or in salad dressings or other dishes can fight inflammations.
Extra Virgin Coconut Oil – As there are many types of olive oil, look for organic, cold-pressed extra virgin olive oil. Not only will extra virgin olive oil contain more phytochemicals with potent antioxidant properties, the flavor will also be stronger and richer.
Avocado Oil – Has high monounsaturated omega-9 fatty acids. Avocado oil contains high phytosterols and polyhydroxylated fatty alcohols which are anti-inflammatory in nature.
Ghee – Ghee is a type of clarified butter commonly used in India and other parts of South Asia. It shares a similar fat composition as anhydrous butter oil and has an outstanding omega-6 to omega-3 ratio. With high saturated fat content, ghee does not oxidize easily and has a high smoke point. Although it is derived from milk, it contains very low lactose and is suitable even for people who are lactose-intolerant.
Macadamia Oil – Macadamia oil's relatively balanced omega-6 to omega-3 fat profile also makes it attractive to people who are concerned with excessive omega-6 intake in their diet. This oil of macadamia nut is rich in palmitoleic acid, an omega-7 monounsaturated fatty acid that is naturally found in human adipose tissues.
Coconut Oil – Virgin coconut oil imparts a fresh coconut flavor, is low in polyunsaturated fats, does not turn rancid easily, long shelf life, and a good source of lauric acid. Coconut oil's antibacterial and antioxidant properties also make it an outstanding choice for luxurious massages.
Soy Foods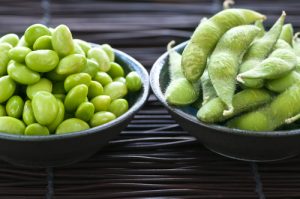 Soy products such as tofu, soy milk and edamame and nuts are a good source of inflammation-fighting health fats.
A study shows that soy foods protect against colon cancer by repressing a signal that leads to accelerated growth of cells, polyps, and eventually malignant tumors.
An amount of 1-2 servings of soy products per day can also protect the body from cancer aside from inflammation.
Tempeh – Tempeh contains manganese, fiber, and copper. It contains protein, phosphorus, vitamin B2 and magnesium. In addition to providing the above nutrients, tempeh is very low in Cholesterol and Sodium. It is also a good source of Protein, Riboflavin, and Phosphorus.
Tofu – Tofu is an excellent source of calcium and a very good source of manganese, copper, selenium, protein and phosphorus. Tofu is also a good source of omega-3 fatty acids, iron, magnesium, zinc and vitamin B1.
Edamame – Edamame is naturally gluten-free and low calorie, contains no cholesterol and is an excellent source of protein, iron, and calcium. Edamame is a young soybean that has been harvested before the beans have had a chance to harden. You can buy them shelled or in the pod, fresh or frozen.
Miso – Miso is an anti-inflammatory one-two punch. Not only is it a fermented food, which means it's rich in probiotic compounds that ferment fibers into anti-inflammatory compounds, but it's also made from soy. Several studies have suggested that soy's isoflavones—estrogen-mimicking compounds—may be powerful anti-inflammatories.
Soy Nuts – Soy nuts are made from soybeans soaked in water, drained, and then baked or roasted. They can be used in place of nuts and are high in protein and dietary fiber.
Sources
Below you will find the sources that were used to help create this extensive guide.
Please feel free to view any of these sources, as they are beneficial to any suffering from Rheumatoid Arthritis.