Reading Time:
2
minutes
To find out the best turmeric for rheumatoid arthritis supplements, keep reading.
Turmeric or "Indian Saffron" is a flowering plant that belongs to the ginger family.
It is golden in color and a strong flavored spice that has been part of Asian cuisine for centuries.
A well-known spice that is used for curries and teas but it also has a history of being used in traditional medicine.
It is a compound that is commonly used to treat pain and inflammation, making it a good ally for people living with Rheumatoid Arthritis.
Turmeric itself is not the main factor for fighting inflammation, but rather its component Curcumin that has anti- inflammatory properties and is also an anti- oxidant that may be able to help with natural pain relief for rheumatoid arthritis.
A 2006 study also suggests that taking Turmeric regularly may be more effective in preventing inflammation than treating it.
It is also believed to help with depression and cancer.
Uses of Turmeric
There are also several ways for you to take or use turmeric.
Tea – you can drink it as a tea. Just add turmeric powder to hot water and have yourself a very powerful, anti- inflammatory, anti- oxidant tea.
Spice – you can use turmeric powder as a spice and add it to your meal. It is a common spice used for curry meals.
Supplement – If it is not your cup of tea to use Turmeric as a tea or in you food but still want to get its benefits, you can always take it as a supplement.
There are a lot of Turmeric supplements available in the market.
With that in mind, here are 7 Turmeric Supplements to consider taking:
#1 – Turmeric Curcumin with BioPerine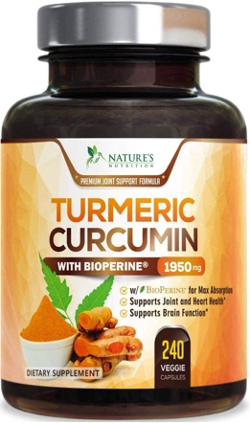 Contains 1950mg Turmeric Curcumin Complex, with standardized 95% Curcuminoids
Includes 15mg Bioperine – black pepper extract for best absorption.
If you enjoyed this list of the 7 best turmeric for Rheumatoid Arthritis supplements, please share with your network.