Reading Time:
< 1
minute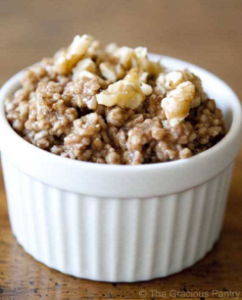 This gingerbread oatmeal recipe is a wonderful breakfast option for people with rheumatoid arthritis, especially if you're looking to change things up a little.
Easy to make and tasty, don't miss this little gem when planning your meals for the week.
When looking for ways to treat RA with healthy meals this gingerbread oatmeal recipe has everything you need to keep your RA under wraps.
The last thing you want is your RA to interrupt your day, so eat healthily and do your best to keep it under control.
See the full recipe and cooking instructions below!
(Avoid these 6 foods if you have RA)
Gingerbread Oatmeal Ingredients:
(Makes 4 servings)
4 cups water
1 cup steel-cut oats
1 1/2 tablespoons ground cinnamon
1/4 teaspoon ground coriander
1 teaspoon ground cloves
1/4 teaspoon ground ginger
1/4 teaspoon ground allspice
1/8 teaspoon ground nutmeg
1/4 teaspoon ground cardamom
Maple syrup to taste
Cooking Directions:
Cook the oats to package directions but include the spices when you add the oats to the water.
When finished cooking, add maple syrup to taste.
__________________________________________
(Free Report: Avoid these 6 foods if you have RA)
__________________________________________
Source:
https://www.thegraciouspantry.com/clean-eating-gingerbread-oatmeal/