Reading Time:
2
minutes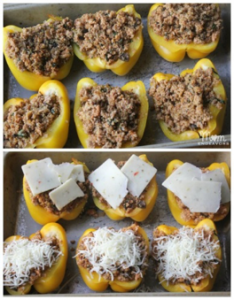 This amazing stuffed peppers recipe is an incredible dinner meal for people with arthritis, including rheumatoid arthritis, who are looking for anti-inflammatory food recipes to help keep their flare-ups under control.
If you're looking for a way to spice up your dinner, you're going to love this stuffed peppers recipe.
Not only is this dish delicious, but it can help you reduce inflammation in your body naturally helping to reduce rheumatoid arthritis pain.
Take a look at the recipe below!
Turkey & Quinoa Stuffed Peppers
Ingredients:
3 large yellow peppers
25lb extra lean ground turkey
1 C diced mushrooms
1/4 C diced sweet onion
1 C chopped fresh spinach
2 teaspoons minced garlic
1 C (1 8oz can) tomato sauce
1 C chicken broth
1 C dry quinoa
*optional – cheese of choice. I used pepper jack in half and an Italian cheese blend on the ones for the kids.
Directions:
In a small saucepan, start the quinoa and cook according to package directions (usually about 15 minutes).
While the quinoa cooks, sauté the vegetables in a pan with a little butter or olive oil.
Then after about 5 minutes or so, add the ground turkey and garlic to the vegetables. Cook over medium heat. Once the turkey is mostly cooked through, add in the tomato sauce and about half of the chicken broth. Let simmer until the turkey is fully cooked and some of the excess liquid has cooked off.
Preheat the oven to 400.
While the turkey mixture simmers, prep your bell peppers. Wash the peppers, cut them in half, and remove the stem & seeds. Spray a 9×13 baking pan with cooking spray and place the cut bell peppers in the pan (open side up).
Once the quinoa is done cooking, dump it into the pan with the turkey & vegetables. Stir together. Then, stuff each bell pepper with the mixture. Make sure they are nice & full! If you're opting for cheese, then top with just enough cheese to barely cover the mixture (if you put too much on, it will get super messy in the oven!). Pour the rest of the chicken broth into the base of the pan (so around the peppers, not over them).
__________________________________________
(Free Report: Avoid these 6 foods if you have RA)
__________________________________________
Source:
http://www.momendeavors.com/2013/08/turkey-quinoa-stuffed-bell-peppers.html