Reading Time:
3
minutes
Everyone knows it's hard to stay active when you have rheumatoid arthritis. Running is out of the question if you're focused on developing good long-term exercise habits, and lifting weights can be difficult especially on your hand and other joints. So where do you start? There are a lot of low impact RA exercises out there, you just have to try things out and see what feels right and keeps you engaged. Let's explore one of the most gentle, yet challenging workouts you can do.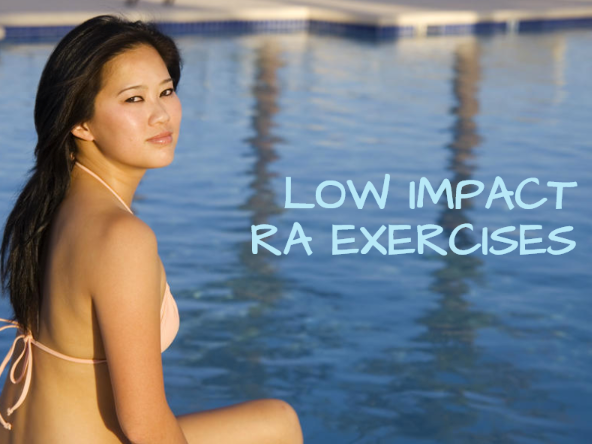 Pool Workouts aka Water Aerobics
Water is a great option for people to ease rheumatoid arthritis pain. Not only does it burn a ton of calories, but the water also creates a low impact environment for your joints. Another great benefit is you're working against the water's resistance, so you experience a great cardio workout too. The best part is that even though you're working out, it almost feels like you're just playing in the water.
Water aerobics or pool workouts have evolved quite a bit over the last 20 years and now included a number of rheumatoid arthritis exercises specifically designed for the swimming pool. You can check out your local YMCA for classes, or if you have your own pool, that's great too.
One simple exercise you can get started with is the wave maker, or some refer to it as the dolphin swim. First, stand next to the wall of the pool and hold onto the side of the pool. Then, for thirty seconds, pretend your legs are stuck together and swim hard against the wall like a dolphin. Start with a thirty second interval and if you don't feel challenged enough push it to forty-five seconds or sixty seconds. This exercise will increase your heart rate, burn calories and work your abs, back, legs, and butt. Because it burns so many calories it's a great alternative to running.
You can also get a great arm workout in the pool using an exercise called the ball lever. First, you'll need an inflatable ball. Start out by floating on your stomach, then with straight arms you'll push the down to your thighs. This should cause your head to surface so you can take a breath. Repeat this movement, just be sure to keep your arms straight. Try doing this exercise in thirty second intervals. If you want more resistance, find a bigger ball. This is a great alternative to lifting weights because it will help tone up and strengthen your arms, shoulders upper back.
There are so many more exercises you can do in the pool, but hopefully this helped you to better understand about why these exercises are so effective.
You can't workout without talking about stretching! It is important to warm your body up and a great way to do this is to stretch before you begin any work out. Stretching keeps your body loose and helps you get mentally and physically prepared for what you're about to do. Adding a stretching routine to the post work out is also advised. A lot of people call this a cool down and it's important to take the time to stretch so and is a great way to start and finish your workouts.
Creating Your Personalized Rheumatoid Arthritis Exercise Plan
It's important to keep an agenda on the exercises and stretches you do. Think of it like a journal that tracks exercises that work for you and the ones that didn't. Also write down how you feel after each exercise session. It will be a key in determining how effective the workout was and if you were in any pain the following day.
Work hard to find a realistic routine that you can follow. You might not be able to handle working out every single day, but then again some people can. Your exercise plan should be customized to you and your body. Nobody else is going to have the same body type or the exact same response to the exercised you're doing. It's important to know what works and what doesn't.