Reading Time:
3
minutes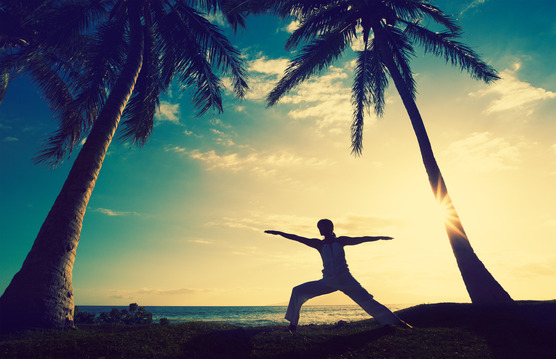 The word exercise has a totally different meaning to a person with Rheumatoid Arthritis. There are a lot of people that struggle to find exercise programs that feel good while working out and feel good after working out too. There is nothing worse than over-doing a workout. It's not only painful, but the next time you're getting ready to exercise you have the fresh memory of that last workout that had you in pain. Even though you may have experienced this vicious cycle, I encourage you to never stop looking. It's that important.
It had to be at least 10 year ago when a friend recommended yoga as a low impact form of exercise that she thought was worth a try. When I did some research on the subject, I found that many people had used yoga for rheumatoid arthritis, and some with mixed results. However, it seemed like yoga could offer some benefits so I signed up for a yoga class and tried in home yoga for rheumatoid arthritis dvd's too.
After continued exploration into this alternative healing field, I found Bikram Yoga which may also be known as hot yoga. Before trying Bikram, I had only tried beginner and intermediate basic yoga classes. What I liked about the Bikram yoga is that the room was really hot so I immediately felt "loose" and could stretch more easily and settle deeper into the positions.
I still struggled with certain positions — for example, anything that required my hands to be flat on the floor was impossible due to the lack of mobility in my wrists, but with a good class instructor you should be able to modify. Overall, I left the studio feeling very well stretched, mentally stronger, and I was dripping sweat so I definitely felt like I had gotten a work.
Benefits of Yoga
Because RA is an ongoing illness that's painful and unpredictable in nature, the mood-boosting impact of yoga was a huge bonus. It really helped with the increased stress that goes along with having a chronic disease.
In addition, when I found hot yoga, I felt some relief in my physical symptoms. Over time, I learned more effective poses that worked best for my rheumatoid arthritis that are very effective for stretching and mobility, strength training with low impact body weight exercises not to mention the mental benefits. When I began learning exploring yoga, I really enjoyed learned how to listen to and respect my body as it was. By focusing on calming and quieting my body, I was able to let go of muscle tension even away from class.
Challenges of Yoga
While there are many benefits from yoga, it comes with some challenges as well. With so many different types of yoga it's important to take the time to find the style that will work best for you. If you have one bad experience with a yoga class, there is a good chance you will look past this as a viable exercise routine. Be careful with that, be sure to try different kinds before you count it out is my suggestion.
There are stretches that put a lot of pressure on your knees and wrists. This can make yoga feel frustrating. It's important to consider modifications, and if you're in a class you'll definitely want to discuss your limitations with the instructor so they can help you with specific poses that are not RA friendly.
As mentioned above, Bikram yoga was much easier on my joints and the warmth of the room really worked for me and felt healthy for my joints. For anyone who is wondering if yoga is good for rheumatoid arthritis, I would say yes. However, depending on your type and severity of arthritis, you may need to choose a more gentle style or come up with modifications.
Everyone is going to feel different about their yoga practices, but I started feeling stronger after a few weeks. There have been no side effects, and I haven't noticed any worsening of symptoms. When I checked with my rheumatologist after practicing yoga for a few weeks, he talked about the benefits of yoga related to strengthening and lengthening the muscles around the joints which can lead to a decrease in symptoms and pain.
All things considered, yoga has not eliminated my rheumatoid arthritis pain, but it has led to a decrease in symptoms. When doing yoga or other forms of low impact exercise feels like another form of medication. I've noticed that when I don't exercise regularly I feel more pain. Time spent doing a yoga class will most likely be your friend so I would encourage others to look into it as a viable option for low impact exercise. There will be some difficult times, but I am confident that each person has a longer life ahead by including exercising in their routine for managing RA pain naturally.