Reading Time:
2
minutes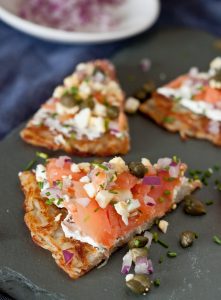 Do you love cooking with fresh fish?
Then this smoked salmon potato tartine recipe for arthritis sufferers will really hit the spot.
Treating rheumatoid arthritis through diet is one of the most effective ways to stay on top of your condition.
Add this heavenly recipe to your cookbook today!
Smoked Salmon Potato Tartine
Ingredients:
Potato Tartine:
1 large russet potato, peeled and grated lengthwise
2 tablespoons clarified butter (or other neutral flavored oil)
salt
pepper
Toppings:
4 ounces soft goat cheese, at room temperature
1 1/2 tablespoons finely minced chives
1/2 garlic clove, finely minced
zest of half a lemon
thinly sliced smoked salmon
2 tablespoons drained capers
2 tablespoons finely chopped red onion
1/2 hard-boiled egg, finely chopped
finely minced chives (for garnish)
Directions:
Assemble Toppings:
Combine goat cheese, lemon zest, and garlic in a small bowl. Season with salt and pepper to taste. Gently stir in fresh chives. Set aside.
Season the chopped red onion and hard-boiled egg with salt.
 Prepare Potato Tartine:
Working quickly (as the potato will quickly begin to oxidize), grate the potato (lengthwise) into a large using the large holes of a grater. Squeeze the potatoes over the sink to remove any excess liquid. Season generously with salt and pepper and toss.
Heat clarified butter in an 8-10 inch non-stick skillet over medium-high heat. Once hot, add the grated potato and shape roughly, using a spatula, into a large circle.
Press on the mixture with the back of a spoon to compact it, cover, and cook gently for 8-10 minutes or until the bottom is golden brown.
Flip carefully to the other side and cook for another 8-10 minutes or until golden brown and crispy.
Remove to a cooling rack and allow to cool until barely lukewarm or room temperature.
 Assemble Tartine:
Once the potato cake has cooled, spread the goat cheese mixture on the top. Layer the smoked salmon directly over this and sprinkle with the red onion, hard-boiled egg, and capers. Garnish with freshly chopped chives.
Cut into wedges and serve immediately.
Congratulations on completing the preparation of this amazing smoked salmon potato tartine recipe.
__________________________________________
(Free Report: Avoid these 6 foods if you have RA)
__________________________________________
Source:
http://www.abeautifulplate.com/smoked-salmon-potato-tartine-north-festival/